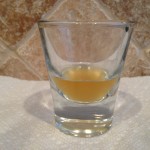 I have found out what's in my tap water–Brown nasty chemical-smelling crap.   And it's not just in my water but yours too.  I used a water distiller on 2 gallons of my tap water and the leftover is shown in this photo.  Go ahead and click on it for the full image.  I dare you.  It's darker than a lager beer and smells of deadly toxins.  Would you drink this?  No, I don't think so.  But you probably are if you are not using a distiller or high quality filter.
I purchased the Megahome Water Distiller so that I can remove fluoride from tap water.  This is something a regular water filter cannot do.  I could go on and on about why fluoride is not safe for you.  But instead, I'll point you to the warning label on the back of your toothpaste:
"WARNING: Keep out of reach of children under 6 years of age. If you accidentally swallow more than used for brushing, get medical help or contact a Poison Control Center right away."
If it says that on toothpaste then why is it a good idea to put fluoride in our drinking water?  I don't understand it and I don't want to get in a debate with any dental hygienists or conspiracy theorists.  I'm just going to remove it from my water.
In summary, if you drink tap water then you might as well be drinking out of the toilet.  Once you see and smell what is in your water, you will stop drinking it, and switch to bottled water or distill it like me.  I'm still using my ZeroWater filter too.  But now I pour the distilled water into that.  It really makes for some great tasting water.
If you decide to buy any of these items please go through my online store so I get some Amazon credit.  That way I can get more filters.  Or maybe just cash.  That's nice too.
---
Read What's in your water – Part 1 to learn more about water filters