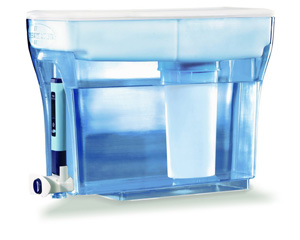 I never thought about how good water filters were until I ordered a ZeroWater filter and it included a water testing tool.  They claim their filter results in water with 0 PPM (parts per million).  The higher the number means more particles and contaminants that not only make water taste bad but can also be bad for your health. It's time for an experiment.
I tested my tap water, a bottle of spring water, and the ZeroWater filter:
My tap water clocked in at 159 PPM.  Is that a good number?  Apparently the World Health Organization says that water with a TDS (total dissolved solids) of 1,000 PPM is "acceptable" and under 600 PPM is "good."  Yeah, maybe if you're living in a tent in Africa it's good but for us fussy Americans we want crystal clear drinking water without any off-flavors.  The higher the PPM number means the worse it will taste.  The bottle of Acadia Natural Spring Water was much better at 24 PPM.  And my new ZeroWater filter, as promised, clocked in at 0 PPM.  Guess it's not marketing fluff after all.
I have two other water filters in my house–My refrigerator's water filter (uses a PUR filter) and a Dr. Mercola filter that was pretty expensive.  In full disclosure, the refrigerator filter was replaced 2 months ago and the Dr. Mercola filter has about 5 months of use on it.  The refrigerator filter definitely gets more use than the Dr. Mercola filter.  The results really shocked me:
My refrigerator PUR water filter is worse than my tap water at 171 PPM! How can that be?
Shouldn't it be removing something?
The worse rating goes to the expensive Dr. Mercola Pure & Clear drinking water filter which clocked in 178 PPM. It's probably only fair to test the filters when they are brand new but I would still think that even if they are a few months old it shouldn't be adding anything to the water.
I really like companies that back up their product claims, and the fact that the ZeroWater filter included a TDS water testing tool speaks volumes.   The instructions say to replace the ZeroWater filter once it gets to 6 PPM.  Maybe they should tell that to the entire water bottle industry.
---
Continue reading What's in my Water – Part 2