Flappy Bird's company dotGears recently notified Apple that my game Duck Run infringes on their copyrights, specifically the bird character used in the game. I spent hours drawing my duck character in photoshop and I think it looks nothing like Flappy Bird.  What do you think?
The above Flappy Bird image was pulled from the USPTO FlappyBird trademark application.   This application was recently filed by Dong Nguyen in March, 2014 and is waiting for review.  He is not just filing this under electronic games but also watches, stationary, hand-bags, glassware, blankets, pillows, clothes, and toys.  Not only is Flappy Bird coming back to the App Store, but it appears dotGear is taking the Angry Birds approach and will start selling merchandise.  And why not?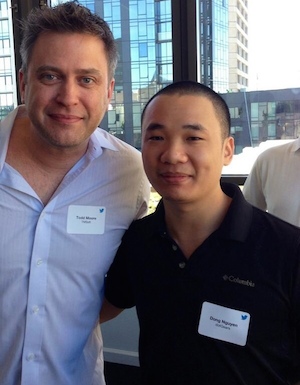 We all know the story of Flappy Bird and how it quickly became a huge success only to be removed from the App Store because the author couldn't handle the stress. I covered this story on my Tech 411 podcast and even had a chance to meet the author, Dong Nguyen while at GDC this year.
I was actually really excited to meet him, as the Flappy Bird story was really big at the time.  I only asked him one question, "Are you bringing Flappy bird back?"  "Yes" he replied.  We were both at Twitter HQ so it seemed appropriate that I should tweet the news.  The next thing I knew, Mac Rumors was running the story.
Is Flappy Bird Original?
We are all influenced by the work of others.  I recommend watching Everything is a Remix to really see this point illustrated.    The artwork and gameplay from Flappy Bird is far from being original.  Let's compare it to Nintendo's Super Mario Brothers: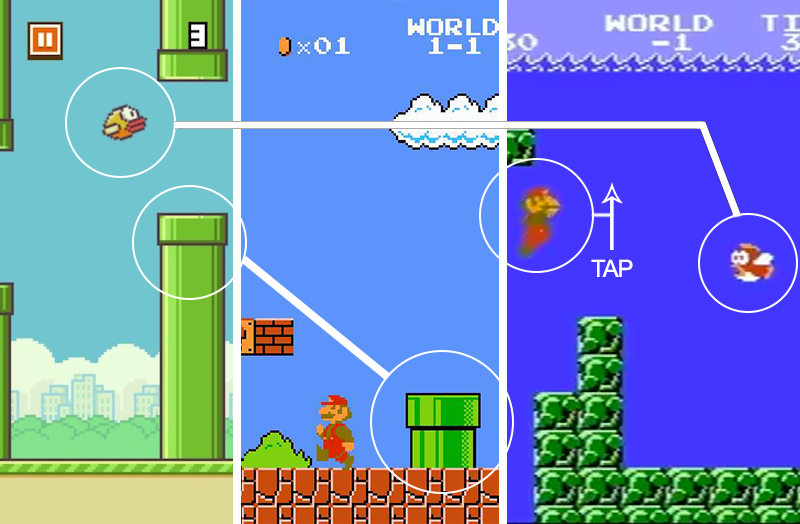 Flappy Bird, on the left, has almost identical green pipes found in the Super Mario Brothers game.   The Flappy Bird gameplay is very similar to the secret underwater world found in the same game.  Mario is controlled by tapping a button that flaps his arms causing him to move upward, while not flapping causes Mario to fall downward.  The Flappy Bird graphic itself looks more like the fish from this same underwater level than my little 'ol duck.
Why Build Duck Run?
Dong said that it took him 3 days to create Flappy Bird. I was impressed he was able to make a side-scrolling game in just 3 days.  I wondered if I could create a flappy style game in the same amount of time. Considering I've competed in plenty of hackathons and even wrote a game in just 20 lines of code (which became the starting point of my book), I thought this would be a fun challenge to take on.  After just 3 days, I had completed my game which I called Duck Run and released it to both the Android and iOS platforms.
Duck Run received great reviews and has pulled in around 200k free downloads.  Because it was so simple, it became my go-to game for learning how to port to other platforms. It's now available on the Mac platform and Amazon Fire TV.  I think it's smart to have a simple game in your portfolio for this reason alone.
Decision Time
The last thing my company needs is another frivolous lawsuit, but I refuse to be bullied into removing
Duck Run from the App Store.   I think it's pretty clear it does not violate any trademarks or copyrights.  I'm not sure the original Flappy Bird game could say the same thing.